Entrepreneur Motivation Podcast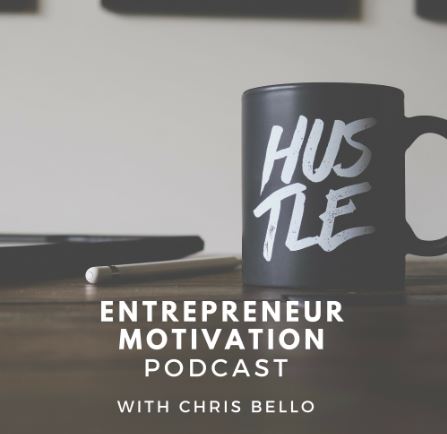 I started this podcast for entrepreneurs at all stages. In all honesty, I started it because I needed motivation myself. I was hustling, putting in the work, and struggling to see success in everything I was trying.
I love self-development, learning, and working towards my huge goals and dreams, and I wanted to share with the world these amazing things I was learning.
The goal of this podcast is to provide you with value whether you're just starting out or even if you already have a successful business or side-hustle.
I talk about all kinds of topics, from the stories of successful CEOs to reviews of my favorite books.
The format I stick to in every episode is as follows:
Introduction
Show notes
Key takeaways
Daily motivation
Actionable steps
I want for this to be bite-sized for you to be able to digest the information and implement one new thing that you learn. If you take just ONE thing of value from a single episode, I will consider the podcast a success.
Below are the first 4 seasons broken out. I now talk about a variety of subjects and no longer follow a "season" format.
Click here to subscribe on Apple Podcasts!
SEASON 1: STARTUP AND BUSINESS TIPS
Episode 1 – Introduction to the Podcast
Episode 2 – Starting a Business or Side Hustle
Episode 3 – Inventing A Product
Episode 4 – Crowdfunding Campaigns
Episode 5 – The Art of Pitching an Idea or Startup
Episode 6 – Can You Really Do It All?
Episode 7 – Tools Every Entrepreneur Should Consider
Episode 8 – Paid and Free Software to Consider
Episode 9 – The Importance Of Mentors and Network
Episode 10 – Market Testing And Feedback
SEASON 2: RECOMMENDED BOOKS AND THEIR TAKEAWAYS
Episode 1 – Think and Grow Rich by Napoleon Hill
Episode 2 – Rich Dad, Poor Dad by Robert Kiyosaki
Episode 3 – The 4-Hour Workweek by Tim Ferriss
Episode 4 – The Millionaire Fastlane by MJ DeMarco
Episode 5 – The Ultimate Sales Machine by Chet Holmes
Episode 6 – Built to Sell by John Warrillow
Episode 7 – The Magic Of Thinking Big by David J. Schwartz
Episode 8 – The Dip by Seth Godin
Episode 9 – Good to Great by Jim Collins
Episode 10 – Awaken the Giant Within by Tony Robbins
SEASON 3: MY REVIEW OF OTHER PODCASTS THAT YOU SHOULD CHECK OUT
Episode 1 – How I Built This (Guy Raz)
Episode 2 – Side-Hustle School (Chris Guillebeau)
Episode 3 – StartUp Podcast (Alex Blumberg)
Episode 4 – The Pitch (Josh Muccio)
Episode 5 – The MFCEO Project (Andy Frisella)
Episode 6 – Built to Sell (John Warrillow)
Episode 7 – Open for Business (John Henry)
Episode 8 – Masters of Scale (Reid Hoffman)
Episode 9 – Ed Mylett Show (Ed Mylett)
Episode 10 – The EntreLeadership Podcast (Ramsey Solutions)
SEASON 4: STORIES OF MASSIVELY SUCCESSFUL ENTREPRENEURS
Episode 1 – Tony Hsieh, Founder and CEO of Zappos
Episode 2 – Elon Musk, Founder and CEO of Tesla and SpaceX
Episode 3 – Jeff Bezos, Founder and CEO of Amazon
Episode 4 – Tony Robbins, Life Coach, Speaker, and More
Episode 5 – Jack Ma, Founder of Alibaba
Episode 6 – Mark Zuckerberg, Founder and CEO of Facebook
Episode 7 – Brian Chesky, Founder and CEO of Airbnb
Episode 8 – Michael Dell, Founder and CEO of Dell
Episode 9 – Larry Ellison, Founder and CTO of Oracle
Episode 10 – Larry Page, Founder of Google and CEO of Alphabet
BONUS EPISODES